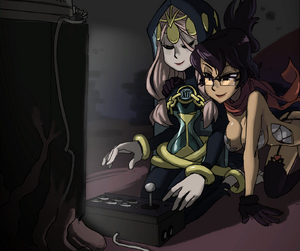 The Trinity is a trio of goddesses in Skullgirls. They are Venus Lovelace, Aeon, and their mother.
They have a church dedicated to them called the Grand Cathedral (which is also a fighting stage in the game). Many people come to the church to give their confessions, tithes, and so on. Because the Trinity are females, people will say "Goddess-speed" to anyone who could use luck.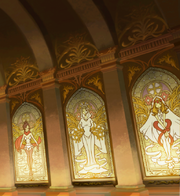 Parasoul and Double worship them with their Petran cross (inverted crucifix) necklaces (but the Trinity mostly uses inverted celtic crosses in their statues). Double calls them "masters".
However, they are the ones who created the Skull Heart, hoping to turn the ladies of the Canopy Kingdom into Skullgirls, so they could use them to destroy the world. Marie, however, has a strong heart, so she couldn't be controlled by the Skull Heart, leaving her to continue her own mission to destroy the Medici Mafia for messing with her and Peacock. The Trinity did not accept this and wanted Double to take her down.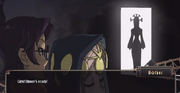 In Valentine's story, she intends to put an end to them and their plans of destruction. She wishes to become a Skullgirl not only to atone for turning Carol into Painwheel, but also to get a better look at them. She is hoping that her research will help the Labs in the future to bring them down for good.

It is unknown as to why The Trinity wants to destroy the world.
Gallery
Trivia
The silhouette of "Mother" resembles a cross between Double's on-stage form (especially the "crown" section at the top of her head) and her nun form. It is unknown if Double copied (unsuccessfully) the form of "Mother" or if she was made like that originally.
It appears that The Trinity's current location is not located on Earth but in a world of unknown origin and distortion.
There is a third confirmed member named "Lamia". She seems to derive her power from the ancient goddess known as "Mother".

Eliza recognizes Double as "Queen Lamia", who attacks the former in revenge for the murder of her "daughters", Venus and Aeon.

The family were once a royal family of an ancient civilization that is a fictional equivalent to ancient Egypt. Eliza was once their trusted general until she rebelled against them.