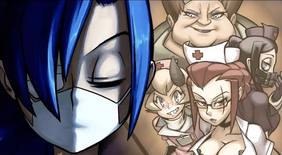 The Last Hope was a group of black-ops Anti-Skullgirl Lab operatives. While there have been many Last Hope squads in the past, the latest team was a team of five operatives, led by Christmas and with Valentine as her second-in-command. Following an attack by Marie, the latest Skullgirl, Valentine remains the only surviving member.
Members
Christmas — Acting as the team leader, she was strict and solemn when training the team and carrying out missions. She used a scalpel shaped sword, as well as multiple regular scalpels for long-range. She was killed distracting Double so Valentine could face Marie one-on-one. Her real name is Christine.
Valentine — Second-in-command, her main weapon is a bonesaw. Marie spared her life for her potential usefulness, and Valentine agreed to work with her with the ulterior motive of avenging her fallen team. Her real name is Valerie.
Patty — Chiefly wielding an IV staff, she was the liveliest of the group, often bantering and teasing her teammates. She was killed holding back Marie's undead army for Valentine and Christmas.
Easter — She specialized in bodybags, always carrying one over her shoulder, presumably to restrain opponents like Double. She took her job seriously, but was friendly with her teammates. She was also killed by Marie's army, fighting alongside Patty. Her real name is Esther.
Hallow — She predominantly used syringes filled with varying concoctions, to the point where she bandaged multiple onto her arm. She had a penchant for mischief, and at one point Valentine called her habits "creepy". She was the first of The Last Hope to die, killed by Double. Her real name is Holly.
Gallery
Trivia
The featured members of Last Hope (Valentine included) are named after holidays of the year; St. Valentine's Day, St. Patrick's Day, Easter, Halloween, and Christmas. Each member often makes puns and references to their names, such as Hallow calling her syringes "Tricks" and "Treats" and Patty referencing Irish traditions and clichés.
Valentine uses the signature weapons of her deceased teammates in addition to her Dead Cross and bonesaw. This includes Christmas's scalpels, Patty's IV polearm, Easter's body bags, and Hallow's syringes. She refers to them as their 'mementos' in Big Band's story mode.
Alex Ahad has stated that Valentine was closest to Hallow during her time in the team. Additionally he has stated that Valentine had a rivalry with Christmas due to her interest in replacing her as team leader.
Christmas's design along with Valentine's was officially changed in a patch. It changed all the red crosses on her outfit to fuchsia instead. This change was announced on May 2 2014 after the Skullgirls Encore publisher Marvelous AQL couldn't guarantee legal action against a potential copyright claim regarding similarity to the Red Cross' emblem.
It was implied that Christmas and Brain Drain had a romantic relationship in an unused Valentine ending wherein he blames Valentine for Christmas's death.