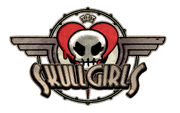 Skullgirls Mobile is a free-to-play mobile spin-off/prequel of the original Skullgirls developed by Hidden Variable Studios. It was released for iOS and Android under LINE Corporation on May 25th, 2017.
On January 15th, 2018, LINE Corporation separated from Autumn Games and Hidden Variable Studios, resulting in the LINE version of Skullgirls Mobile becoming inactive permanently.[1] The game was subsequently re-released under Autumn Games on January 18th, 2018.[2]
There are three game modes: Story, Prize Fights, and Daily Events.
Story
Including the game's tutorial, the story of Skullgirls Mobile is told in the style of a visual novel, interspersed with a series of matches, and is set before the events of Skullgirls.
Main Story
In the tutorial, the player is introduced as having has just awoken after being experimented on by Brain Drain and Valentine at Lab 0. She tests the player's movements, introducing basic controls of the game.
Part 1: Egret Boot Camp
Having escaped Lab 0 thanks to Valentine, the player joins the Black Egrets and trains with Princess Parasoul to further understand the game's mechanics.
Part 2: A Fishbone to Pick
The player investigates Little Innsmouth to find out what the Fishbone Gang is up to.
Part 3: Who's The Boss?
The player tails Andy Anvil to see who he is after.
Part 4: Going All In
Having identified the real threat to New Meridian, the Black Egrets and the player infiltrate the River King Casino and "scrounge up some incriminating dirt".
Part 5: Ascent of a Woman
The Black Egrets and the player ascend New Meridian's tallest tower and take on the deadliest crime organization in the city.
Origin Stories
Introduced in Update 1.3[3], these delve into the backstories of the Skullgirls characters. Every fight within an Origin Story requires a Fighter of that story's character type.
Meaner. Better. Faster. Stronger
Peacock's Origin Story, added on July 31st, 2017. This chapter covers her rescue from slavers by the Anti-Skullgirl Labs and her willing transformation into a soldier by Lab 8.
Beating the Odds
Big Band's Origin Story, added on September 4th, 2017. This act concerns Ben Birdland who was betrayed by the corrupt police force, before being modified as an Anti-Skullgirl soldier by Lab 8.
Growing Pains
Painwheel's Origin Story, added on September 29th, 2017. Carol awakens as Painwheel and has her abilities tested by Lab 0 while struggling to maintain her free will.
Last Hope
Valentine's Origin Story, added on November 15th, 2017. Valentine embarks on a mission with the rest of the Last Hope to take down the Skullgirl and her shape-shifting cohort.
​Main Attraction
Cerebella's Origin Story, added on December 21st, 2017. This chapter takes place a year prior to Skullgirls, where Cerebella, Beatrix, and Feng are tested to see who will become the next agent for the Medicis.
No Shelter
Parasoul's Origin Story, added on August 9th, 2018. This chapter begins with Umbrella asking Parasoul how their mother became the Skullgirl, forcing Parasoul to question if she should tell her the truth. 
Hostile Makeover
Filia's Origin Story, added on June 5th, 2019. This chapter focuses on Filia's first encounter with Samson and the events that led to her becoming the Parasite's host.
The Fall of the House of Contiello
Squigly's Origin Story, added on August 8th, 2019. The events leading up to Selene becoming the Skullgirl, her ensuing actions, and Squigly's death and un-life are further explored.
Prize Fights
Prize Fights is a game mode that requires the player to be at least level 10 to unlock it.
The game mode puts the player in a continuous string of 3v3 fights where they choose 3 among their collection of fighters and get matched to another team of 3 (created by other players). The matchmaking method is based on the total fighter score of the 3 chosen fighters (as a result, choosing higher-point fighters results in getting matched with tougher opponents). If the player wins a match, they will get an amount of score that counts towards reward tiers of the Prize Fights' theme (for example, the 'Medici Shakedown' theme contains Canopy-Coin reward tiers). The more the player wins, the longer the win streak and, therefore, the higher the score multiplier will be so the player can get to higher reward tiers.
The following are Prize Fights' themes:
Character Prize Fights (Canopy Coins, Theonite, Skill Points, and Bronze/Silver/Gold Moves)
Two to Tangle (Filia)
Dame of Thrones (Parasoul)
Rumble Pack (Beowulf)
Cutting Room Floor (Peacock)
Second to Nun (Double)
Night's Ghoul (Squigly)
Casket Match (Valentine)
A League of Her Clone (Fukua)
Blood Sport (Eliza)
Big Ben's Beatdown (Big Band)
High Wire Hijinks (Cerebella)
Ones and Zeros (Robo-Fortune)
A Head of the Game (Ms. Fortune)
Medici Prize Fights (Canopy Coins and Gold Moves)
Medici Pit Fighting
Medici Fight Club
Medici Crime Spree
Medici Heist
Medici Shakedown
Elemental Prize Fights (Elemental Shards, Elemental Relics, and Elemental Essences)
High Tide (Water element)
Ring of Fire (Fire element)
Eye of the Storm (Air element)
A Shining Example (Light Element)
A Shot in the Dark (Dark element)
Miscellaneous Prize Fights (Various Rewards)
Hot Off the Presses (Skill Points)
Show Me Your Moves (Move Relics)
Daily Events
Daily Events is a game mode unlocked by finishing 'Who's The Boss?' in the Story Mode.
The mode is akin to a daily Story Mode with varying sets of fights and rewards based on themes. Rewards for completion are Canopy Coins, a Special Moves, Blockbuster moves, and Theonite. The quality of the moves (Bronze, Silver, or Gold) depends on the difficulty (Basic, Advanced, Expert, and Master respectively).
Each day in a week has a different theme:
Monday: After School Special (Filia); Ghoul's Night Out (Squigly)
Tuesday: Walking The Beat (Big Band); Days Of Future Cats (Robo-Fortune)
Wednesday: Routine Checkup (Valentine); Wednesday Night Rawr (Beowulf)
Thursday: A Clone With my Thoughts (Fukua); Anger Management (Painwheel)
Friday: Tickets to the Fun Show (Cerebella); Double Feature (Double)
Saturday: Saturday Morning Cartoons (Peacock); Caturday Night Fever (Ms. Fortune)
Sunday: A Royal Audience (Parasoul); Bloody Sunday (Eliza); Cosmic Encounters (Annie)
Fighter Cards
In lieu of a roster made up of completely different characters, Skullgirls Mobile has fighters based on different color palettes of cast members from Skullgirls 2nd Encore, each with a unique title besides the character's name. In-game, this was explained as summoning fighters from parallel dimensions through the use of Relics, however; this has been retconned.
The fighter cards are split between rankings of bronze, silver, gold, and diamond, with the possibility of evolving fighters to a higher rank when certain sacrificial conditions are met. Fighters of each character palette are also associated with their own element: Fire, Water, Wind, Light, Dark or Neutral.
Update 3.3.1 introduced a standardized greyscale palette for Sparring Partners in Training Mode.[4]
Controls
Swipe Away: Dash backwards
Swipe Forward: Dash forward and attack
Swipe Forward Twice: Dash forward attack followed by knockback attack
Tap Light One Finger: Light attack, press consecutively to combo
Tap Hold One Finger: Charge Attacks
Swipe Down One Finger: Perform a crouch (trip) attack
Swipe Up: Launch opponent in the air. (Tap Immediately after launching the opponent to follow with aerial attacks)
Hold the Screen Two Fingers: Block
Swipe Anywhere Two Fingers: Throw
Press buttons on-screen to Tag-out, use Power attacks, and Blockbuster Attacks
See also
References