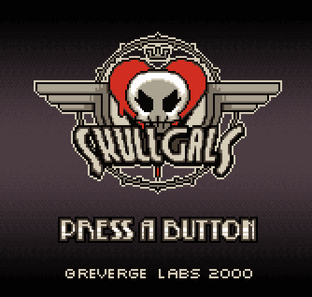 Skullgals is an April Fool's Joke listed on the official Skullgirls website. It was advertised as a Neo Geo Pocket Color port of the original Skullgirls game. It said it would feature two new characters,
Squigly
and
Umbrella
. It was given a release date of early 2013 and would feature online play - a feat impossible with the hardware of the NGPC.
On December 4th 2014, 'Skullgals' PlayStation Network avatars were made available for purchase on the PS3 PlayStation Store to make up the third set of the Skullgirls avatar collection for $0.49 each. They were designed by Australian animator Paul Robertson, who is most well known for his pixel art and animation. Ten avatars each featuring a different playable character were created and used sprites similar to the ones in the original April Fool's Joke; with some characters being shown in different poses and Umbrella being replaced with Big Band, a character who was not shown in the original Joke.
The fourth and final set of the Skullgirls PlayStation Network avatars were released on December 23rd 2014. Six of these avatars finished off the Skullgals-themed collection and featured the remaining playable characters along with Marie and Umbrella. Half of the spritework consists of entirely new designs while both Fukua's and Robo-Fortune's sprites use a slightly retooled and recolored version of Filia's and Ms. Fortune's sprites respectively. Umbrella uses the exact same sprite as portrayed in the original parody.
Community content is available under
CC-BY-SA
unless otherwise noted.