Rooftops Assault is a stage in Skullgirls Encore. Set on a rooftop in New Meridian, the city is caught the midst of an attack by the Skullgirl, who can be seen in the distance directing a legion of undead minions to upend and lift up a building.
Rooftops Assault is first encountered in Squigly's story mode, and can be unlocked for multiplayer and training use by completing her story. Alternatively, owning both Squigly and the character color bundle DLC will instantly unlock Rooftops Assault.
Description
Edit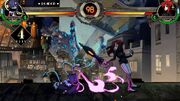 In a short amount of time, the Skullgirl has managed to cause incalculable amounts of destruction throughout the streets of New Meridian. Massive fires blaze in the night, and destroyed pieces of building haphazardly float in the sky, kept aloft by the Skullgirl's magic. Caskets and corpses hover across the city, drawn to the Skullgirl's call for assistance; they merge into a giant pair of hands, which the Skullgirl then uses to lift up a large section of the remnants of Medici Tower into the sky.
Squigly's story mode begins on the rooftops overlooking New Meridian, where she is quickly confronted by Parasoul and her troops. Mistaking Squigly for a mindless minion of the Skullgirl, Parasoul engages hostilities. After suffering a defeat at Squigly's hands, Parasoul shifts her attention to the Skullgirl; in a fit of rage, the Skullgirl tosses Medici Tower's upper half at an escaping airship presumed to be sheltering Lorenzo Medici. Although the dirigible is heavily damaged, it continues to fly away, the ruins of Medici Tower splashing into the ocean below. With Parasoul distracted by the spectacle, Squigly manages to escape into the night.
The stage also appears in Big Band's story mode. When Big Band sees Marie carrying part of the Medici Tower, Brain Drain orders him and Painwheel to take her out. Big Band, however, refuses to do so since that will cause the debris to fall, killing many civilians and causing further damage to the city. As he disregards the warning, Brain Drain orders Painwheel to do the deed and eliminate Big Band, much to her frustration. After her defeat, Brain Drain orders her back to Lab Zero. Big Band then told Painwheel that she didn't have to listen to him and got Leduc to take her back to Lab 8 for help.
Rooftops Assault is an alternate version of New Meridian Rooftops.
Like New Meridian Rooftops, Rooftops Assault features several billboards of various Skullgirls sponsors, such as Sanshee, Eightysixed, and Frootsii. 
A neon hot-pink sign of Umbrella can be seen on one of the buildings.
Community content is available under
CC-BY-SA
unless otherwise noted.