Roberto Contiello is the father of Sienna "Squigly" Contiello and Leviathan's previous host. He has a brief appearance in Squigly's story.
He makes a single appearance in Squigly's story after Black Dahlia slaughters his family and his wife Selene becomes the Skullgirl, telling Leviathan to keep everyone away from Squigly, even him. In Squigly's origin story on Mobile, he takes a more active role, acting a sort of right-hand man to Selene as she goes on her mission to attempt to take down the Medicis as part of her undead army.
In the picture to the right, he has a bloody hole in his arm where Leviathan once was and a trail of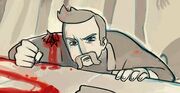 blood leading from him. Since he was Leviathan's previous host, that the host dies when the
parasite
disconnects, and Leviathan keeps Squigly "alive", Roberto sacrificed himself to bring Squigly back to life.
He most likely died of blood loss from Leviathan leaving him as he does not appear to have any wounds sustained from Black Dahlia's attack. 
Since Leviathan is passed down through the Contiello family, Roberto is the heir by blood while Selene married in.
Community content is available under
CC-BY-SA
unless otherwise noted.