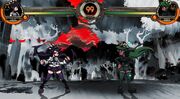 Nightmare Crest is a stage in Skullgirls Encore. Released alongside Fukua, Nightmare Crest is a heavily distorted version of Maplecrest with a much darker presentation.
Description
A perverted version of the otherwise peaceful Maplecrest, Nightmare Crest features a bloodshot sky with rushing dark clouds, haunting monochrome buildings, and ghostly apparitions of the people and animals which roam its streets.
Nightmare Crest is seen in Painwheel's story mode, where she is brought into it by Brain Drain's attempt to wrest control over her free will.
Nightmare Crest is also seen in Fukua's (non-canon) Story Mode, where Filia dreams of a final showdown between Fukua and Filia.
Trivia
Nightmare Crest appeared in Painwheel's story mode as a background image several years before its inclusion as a stage in Skullgirls.

In her story mode, she fights her mental doppelganger on the Maplecrest stage prior to Nightmare Crest's release.

Nightmare Crest's stage music, "The Dreams We Left Behind", was composed by Vincent Diamante. It heavily borrows from the track "The Lives We Left Behind" which is the stage music for Maplecrest.

This makes Nightmare Crest one of only four stages where the stage music was not composed by Michiru Yamane (with the others being "Royal Canopy Waltz", "The Crowd Goes Wild" and "The Crowd Goes Home").

If any character performs a move that shakes the background, the words "DIES CREAM" will appear on the side of the ice cream truck in the background. It was intended to read "DIE SCREAM," but the message was unable to fit satisfactorily.