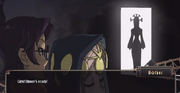 Very little is currently known about her, she hasn't even made a physical appearance nor has she been given a name, she is simply referred to as "mother" by Aeon and Venus. Her shadowy appearance has been shown on the wall on her daughters room while they were playing Skullgirls, she informs the two that dinner is ready. She tells them to stop playing their video games and to come down to eat before their dinner gets cold. Aeon then asks to give them a second so that she could save her game.
Eliza's Story Mode implies that she was once a queen named Lamia, of whom Double is a shadow of.
Gallery
Main article: Mother/Gallery
Trivia
She is most likely the leader of the Trinity as she is seen in the middle of the stained glass of the Divine Trinity's Grand Cathedral.
Her silhouette can be seen surrounding the Skull Heart during the final battle with Marie.