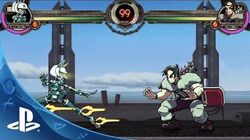 Meridian Area Rapid Transit is a stage in Skullgirls Encore. Players fight on top of a moving train, witnessing the sites of New Meridian and passing by other locomotives on the way. It is currently the only non-static stage, with one loop approximately lasting 2:47 minutes. This was also the first stage to demonstrate the dynamic lighting engine before it was added to several existing stages.
The stage has been a concept for development since it was still SkullgirlS, and was added to the beta on 15th March 2015.
Description
Edit
The stage begins with a plain blue sky, quickly showing off the city in the distance (looking like the background on New Meridian Rooftops).
Buildings in the distance transition closer to the foreground; buildings are large and blocky, taking up a lot of the screen.
Goes past a bridge, buildings (now thinner with the appearance more akin to skyscrapers) becoming slightly further away again. Stone pillars pass by occasionally.
Another train rises up in the background. Many passengers are fedora-wearing silhouettes, but some are more significant characters.
Iron cross-sectioned bars streak in front of the train in the background. Train disappears behind a massive, singular building.
Transitions into a brick-walled tunnel. Dynamic lighting!
Same background, but the stage gets lighter (exiting the tunnel). Graffiti can be seen.
Exits out of tunnel, which has been built under a grassy hill. Area is inhabited, but seems more rural.
Goes across the sea - a lighthouse and the tops of trees can be seen. This lasts for a while before passing by an elongated house. Electric power lines are also seen eventually. Background elements disappear, beginning the loop again.
Bursts trigger the appearance of the Hype Train, headed by Umbrella, Feng, Aeon and Venus with all the characters who had been up for DLC voting as passengers. It is based on a flash by Z0NESAMA, which itself is based on the Hype Train meme.
Filia has a cameo on the far right side of the stage if she isn't currently being used. Fukua can also briefly be seen watching her from a passing train, although she does not disappear if she is currently being used.
A man resembling Ryu from the Street Fighter franchise, complete with headband and karate gi, can be seen to the far left of the stage, reclining against a punching bag resembling Bonus-kun from Waku Waku 7. Sitting beside him is a hooded figure whose hair obscures his face. These characters also appear in the Streets of New Meridian and Under the Bridge stages.
Community content is available under
CC-BY-SA
unless otherwise noted.