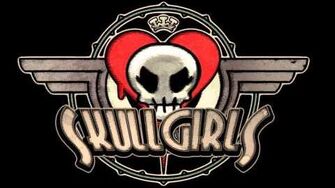 Maplecrest is a stage in Skullgirls. Located in a quiet suburb, Maplecrest is home to a diverse collection of people and animals who wander the town's peaceful streets.
Maplecrest appears in the story modes of nearly every character in Skullgirls, and is unlocked by default for use in multiplayer and training.
A darker, distorted version of this stage exists as Nightmare Crest.
Description
Aptly named for its abundance of maple trees, Maplecrest serves to be a stark contrast to the busy hustle and bustle of neighboring New Meridian. Houses with picketed fencing wind down hilly roads far into the distance, the roads themselves littered with autumn leaves, freshly falling from the maples above. Despite its outwardly appearance as a gentle neighborhood, however, Maplecrest manages to be the host of many street scuffles carried out by the cast of Skullgirls.
Before her abduction by Lab Zero, Painwheel resided in Maplecrest with her parents who can be seen in the background of the stage on the left, partially hid by a tree. Her fond memories of the neighborhood helped her remove the grip Brain Drain had on her psyche.
Gallery