The following characters are considered non-canon as their official status remain unknown. This is due to the original nature of Skullgirls as being a project for Alex Ahad to place "fodder" characters.
4-Headed God
The 4-headed God is a being who only appears in concept art, and would have appeared in an area called Golgatha. Judging from its skeletal appearance, it probably had a connection to the Skullgirl.
Aesil
Aesil is a character who only appears in concept art. She is a being from a dreamworld connected to Earth and can summon monsters she created in her mind and control them.
Early concepts suggest she had some kind of connection to Umbrella.[1]
Butterknife
Butterknife is a character who only appears in concept art. She is a sword collector from a faraway land who attempts to steal Samson's hairpin swords and Fuscienne's cross.
Fuscienne
Fuscienne is a character who is mentioned in an old Livejournal post by Alex Ahad.[2] She is a "black bishop" from the Chess Kingdom, who was sent to Canopolis to kidnap the princesses of the Canopy Kingdom.
George
George is a character who only appears in concept art.
Goldilocks
Goldilocks is a character who is mentioned in an old Livejournal post by Alex Ahad. Goldilocks has the power to adjust the size of her limbs. She is part of a small band of thieves consisting of her, Little Red Riding Hood, and Snow White, who were rivals to both the Fishbone Gang and Cerebella's performing group. Goldilocks and her friends aim to steal the Skull Heart.
Juju
Juju is the sniper for The Black Egrets. She also goes by the codename of #13, a reference to her sniper rifle Gorgon 13 which contains a built in headset and receiver through which she can communicate with Parasoul.
Juju's original design idea was not the creation of Reverge Labs, but rather of a fan who posted the idea on Skullgirls' official Facebook page before the game's release. Noticed by the team, the character ended up being sketched on whiteboards by Richard Suh for humorous effect. Eventually becoming warmly accepted by Reverge, she was put into the game proper and referenced in Parasoul's tutorial mode and a rare voice line in her Silent Scope Blockbuster - Parasoul would call her name instead of her codename.
Eventually this caught the eye of the original fan, who allegedly wanted compensation for his role in Juju's creation. This began a month's long dispute between newly-formed Lab Zero and the fan, which lasted into Skullgirls' character-funding donation drive. While Juju was on the list of characters up for vote initially (being the 25th character revealed at $500,000), it soon became clear that the legal issues would not subside before the vote began, so she was disqualified from the vote.
Ultimately, Juju's fate was sealed when the overeager fan posted information about their dealings with Lab Zero on the forum soon after, breaking a signed non-disclosure agreement. As a result, Lab Zero removed all references to Juju in Skullgirls, retconning her existence entirely.[3]
Interestingly enough, Juju was given a slight cameo in the description for the Sheltered variant of Parasoul in Skullgirls Mobile, where it said "Take the shot, Juju." However, this appeared to be a mistake by the developers, as a later update patched this quote to remove any reference to Juju.
Myrine
Myrine is a Gigan who only appears in concept art. She bears a striking resemblance to Scythana.
Silverwind
Silverwind is a character who is mentioned in an old Livejournal post by Alex Ahad. She sought the Skull Heart to restore her dying ranch. She has fought alongside Annie in the past.
Spiderlegs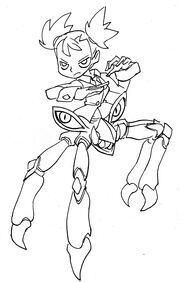 Spiderlegs is a character who only appears in concept art. She lacks the rest of her body past her torso and is connected to a Parasite with four legs.
The Triplets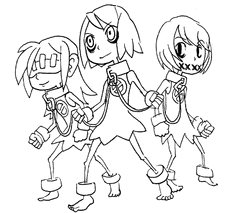 The Triplets (Or the No Evil Triplets) are three mysterious characters seen only in concept art. They are a play on the phrase "see no evil, hear no evil, speak no evil", as this example:
One can listen and speak, but can't see.
One can speak and see, but can't listen.
One can listen and see, but can't talk.
It has been said by Lab Zero staff that the Triplets currently have no place in the storyline, but "may be used in the future if a place can be found for them."
Gallery
References
Community content is available under
CC-BY-SA
unless otherwise noted.