"Welcome to Lab Zero Games.
Forward-thinking and retro-minded, Lab Zero Games is an independent game development studio founded by the original team that brought you Skullgirls. Lab Zero intends to continue its critically acclaimed work on Skullgirls as well as leverage its unique design and artistic sensibilities to develop new games."
Lab Zero Games was the developer team behind Skullgirls. The main staff consisted of: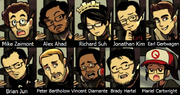 Controversy
In June 2020, multiple allegations of misconduct were made against Mike Zaimont, lead designer and programmer of Skullgirls. Two individuals claimed that Zaimont made inappropriate sexual comments towards them, which triggered an internal investigation of Zaimont's behavior within Lab Zero Games. A decision was reached by Lab Zero's board to request Zaimont's resignation. According to Lab Zero senior art producer Brian Jun, Zaimont refused to resign unless a series of demands were met, of which Jun deemed "unrealistically high and potentially illegal". Zaimont's demands were rejected by the board. In response, Zaimont disbanded the board and assumed sole ownership of Lab Zero Games. Jonathan Kim, Lab Zero's senior animator, claimed that Zaimont delivered an ultimatum wherein he gave all unsatisfied employees until August 31st to leave the company. In late August, Kim, Jun, and Mariel Cartwright, Lab Zero's lead animator, resigned from Lab Zero Games and individually issued statements denouncing Zaimont's actions. Alex Ahad, Skullgirls' creator and main artist has apparently already left Lab Zero previously on not great terms.
Within a day of the series of resignations, Hidden Variable and Autumn Games severed their ties with Mike Zaimont and Lab Zero Games in a joint statement. In the statement, both parties expressed intent to work with the employees who resigned from Lab Zero Games on the continued development of Skullgirls.
Lab Zero Games announced they would dissolve a few months later. Several former employees announced that they would create a new development studio involving good co-operation called Future Club.
Gallery
External links