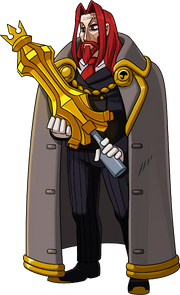 Franz Renoir was the king of the Canopy Kingdom, thus the husband of Nancy Renoir and the father of Parasoul and Umbrella, who inherited his red hair (somewhat, in the case of the latter). He wielded one of the Renoirs' Living Weapons called Eroberung, an umbrella-shaped firearm. His current status is unknown.
Known for his ruthlessness, he was responsible for much growth in the kingdom, but they were largely due to his many war campaigns. It was during this time that he authorized the creation of the Anti-Skullgirl Labs. However, his war efforts were put to an end when his wife became the Skullgirl. Although he was also responsible for the Labs' decommissioning, they were restarted in secret after his disappearance.
Trivia
Some dialogue implies that the people of Canopy do not have a high opinion of him and his tyranny. For instance, in Eliza's story mode when Squigly voices distress and embarrassment over getting into a fight with the princess, Leviathan responds, "If she turned out anything like her father, I would not worry about it."
Early concept art had him originally wielding Todd, before their appearances in Skullgirls Mobile confirming Todd was instead wielded by Nancy.
Eroberung, the name of Franz's living umbrella, is the German word for "Conquest". This fits with the theme of the Renoir family's Living Weapons being named after the Four Horsemen of the Apocalypse.
It is currently undecided if King Franz has died or is missing within the canon. Alex Ahad said that he will end up going with "whatever sounds cooler" once his true fate is revealed.

King Franz potentially being missing or the residents of the kingdom not knowing whether he is alive or not can explain why the current ruler, Parasoul, is still considered a princess and not a queen.
Gallery
References