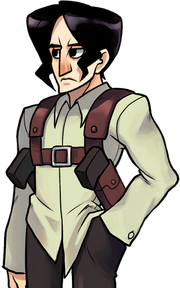 Irvin (JP: アーヴィン) is a private detective working in the Canopy Kingdom. He is characterized as being stoic, taciturn and mysterious.
Irvin appears at the end of Nadia's story mode, after Yu-Wan has informed her that the Medici Mafia had kidnapped Minette along with the rest of the River King's daughters and some other Dagonian women. Irvin introduces himself as a private detective hired by the River King to save his daughters from the Mafia. He and Nadia begin to investigate the Mafia's motivation for kidnapping the girls and along with Yu-Wan prepare a rescue mission.
Irvin appears in a flashback of Big Bands days as a police officer. After Big Band defeats Ms. Fortune Irvin tells him to back down, stating that she is an asset to his investigation. It is revealed that the two were partners and friends. Big Band tells Ms. Fortune he will come after her if anything happens to Irvin and they part ways.
Main article: Irvin/Gallery
Despite the fact he is armed and clearly a capable fighter, Irvin was one of the only characters that did not appear as a possible future playable character during the Indiegogo campaign. This, combined with the briefness of his appearance in the Skullgirl's story mode has lead fans to speculate that he will play a major role in some future Skullgirls project.
Community content is available under
CC-BY-SA
unless otherwise noted.