Grendel was a Gigan wrestler. His severed arm is used as part of Beowulf's repertoire.
General Information
Thought to have been unstoppable, Grendel battled against his rival Beowulf in the ring for the prize of claiming the champion's belt. Beowulf ripped off one of the Gigan's arms, ultimately resulting in his defeat and death. His mother then attempted to eat the audience in rage due to her son's death, before she was also killed by Beowulf.
Character Basis
Origin
Both Grendel and his mother are drawn directly from the Old English epic poem Beowulf. Described as "Very terrible to look upon," he is usually depicted as a monster or a giant.
His appearance resembles that of a blue oni, which are ogre-like creatures from Japanese folklore.
Trivia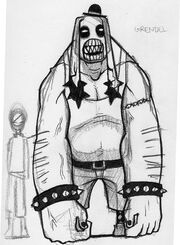 An old LiveJournal post by Alex Ahad mentions that Grendel was intended to be a member of the Fishbone Gang.
Alex Ahad said on an old Salty Cupcakes stream that he wanted to keep Grendel alive and perhaps include him in Skullgirls as a future DLC.
Beowulf taking Grendel's arm mirrors Beowulf from the epic poem, except Beowulf from the game takes the arm for himself.