Welcome to Future Club.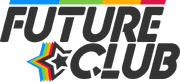 Future Club is a group of experienced game developers coming together to create cool and fun games for the future.
We're a new co-op game development studio, formed in September 2020. Future Club specializes in handcrafted art and traditional 2D animation, engaging and responsive gameplay, and creating unique and memorable worlds.
Future Club is one of the developer teams of Skullgirls series, founded by former employees of Lab Zero Games.
On March 3, 2021, Hidden Variable Studios announced on Steam that they will be working with Future Club on the development of Annie along with other characters in the Skullgirls 2nd Encore Season 1 Pass.[1]
External links
References