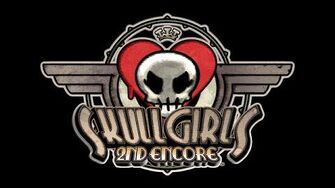 The voice of the Female Announcer is provided by Cristina Valenzuela and is exclusive to Skullgirls 2nd Encore.
Character Selected
Pre-round Introduction
Everybody mind your marks!
Break a leg out there.
This is tuna with bacon! Yum!
This is tuna with bacon...?
THIS IS TUNA WITH BACON!!
This is true love we're making!
Quiet on the set!
Try to keep it cute, huh?
Gentlemen and ladies, it's...

SHOWTIME!
GOOOOOOOOO!!
FIGHT!
LET'S ROCK!
Pause
Pause! (Paused)
Just a moment! (Paused)
Hold it! (Paused)
Uh-uh-uh-uh-uh! (Paused)
Hang on a sec! (Paused)
MOOOOOM! I'm playing video games! (Paused)
Let's go! (Unpaused)
'Bout time. (Unpaused)
Fight! (Unpaused)
Win
CUT! (Most victories)
CUT, CUT, CUT!! (Forgettable! or Barely!)
Loss
Come on, you call that a fight? (Time out)
Sorry, no refunds. (Time out)
Time out. (Time out)
Is this how the story ends? (Continue?)
Try again, kid. (Continue?)
Round end
Just one more...!
Believe in the announcer that believes in you!
Let's have another!
The fix was in!
Aww, come on!
So close!
References