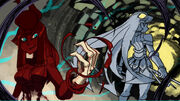 Delilah
was a previous host of the
Parasite
,
Samson
. She has yet to appear outside of concept art.
General Information
Edit
In-game dialogue (when fighting against Marie) suggests that she fought with Samson against a Skullgirl and/or the Skull Heart in the past, and that Samson was especially fond of her. It has been hinted that, as a host, she was stronger than Filia, as Eliza scorned Samson's current host for being "less worthy" than Delilah while simultaneously remarking that "even [Delilah] wasn't worthy". Judging by her attire, she may have been a soldier or gladiator.
In Eliza's Story Mode, Samson also reveals that he considers Eliza responsible for Delilah's death, although the exact manner of her death remains unknown. He says that Eliza was "the reason Delilah had to die" just after saying that Eliza is also the one responsible for the increased hostility against Parasites, so it could have been indirectly her fault. However, Delilah and Eliza apparently clashed at some point, so Eliza may have killed Delilah herself.
Character Basis
Edit
Delilah is a Hebrew name that means "delicate" or "languishing", which can be associated with weakness. This also shows in the meaning "[she who] weakened", which stems from how her name, like Samson, relates to the Biblical figure Delilah, a woman who Samson loved but betrayed him.
The hairpin-like weapons she wields are similar to the ones Filia had in some pieces of concept art. According to Alex Ahad, Filia does, or at some point will, own these weapons, so it's possible they are the same ones Delilah used.
Community content is available under
CC-BY-SA
unless otherwise noted.