These are the controls used for Skullgirls.
Button Layout
Edit
Skullgirls is an 8 directions, 6 buttons fighter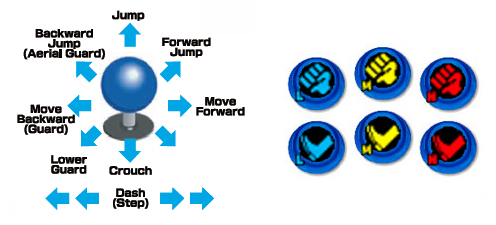 Default keyboard layout
Edit
Directional keys - Movement
Z - Light kick ("accept" when navigating the menu screen)
X - Medium kick ("cancel" when navigating the menu screen)
C - High kick
A - Light punch
S - Medium punch
D - High kick
V - Macro 1
G - Macro 2
H - Right analog up
B - Right analog down
Return - Start
F - Select (Record and play dummy movement in Training Mode)
Abbreviations
Edit
(PP) - any two simultaneously (e.g. )

Also written AD, referring to the air dash some characters have.

charge - hold specified input for two seconds before proceeding to next command.